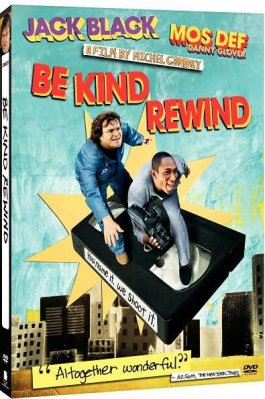 These days there isn't much choice of what to watch in the movies. So I ended up at "Be Kind Rewind".  It's a comedy with Jack Black and Mos Def, both of who are often funny.  Also, I wanted to see how Danny Glover is doing these days, since the last time I saw him was in "Lethal Weapon 4" or so.
"Be Kind Rewind" is a bit of an akward film.  It's funny, it's sad, it's cheap, and it's kind.  Some parts of it are so hilarious that I was laughing out loud.  Yet other parsts of it don't make any sense at all.  Some scenes follow each other naturally, yet some other feel like they were glued together very roughly.
Overall, I'll give it a 6 out of 10.  Not something that I would strongly recommend, but not your regular movie experience either.