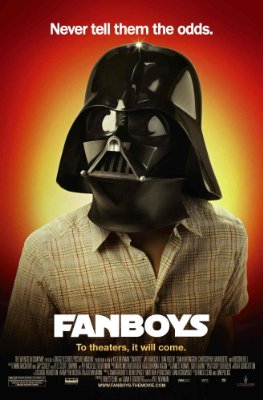 Managed to catch "Fanboys" in the cinema.  I've seen the trailer of it some time ago and thought that I should watch the movie.  And I was right.  I guess most movie fans, and especially those of "Star Wars" religion among you, will enjoy the film.  It's pretty light, with lots of movie-related jokes, and a touch of drama, which only makes it so much better.
I found the cast to be quite interesting.  Main characters are played by not yet so famous young actors (they needed the geeky look after all) – Jay Baruchel, Kristen Bell,  Dan Fogler.  But while they move through the film, there are many familiar face such as Danny Trejo, Seth Rogen, William Shatner and even Kevin Smith.  Even though their roles are very short, almost cameos.
While this film is not a masterpiece by any measure, I did enjoy it quite a bit.  4 stars.