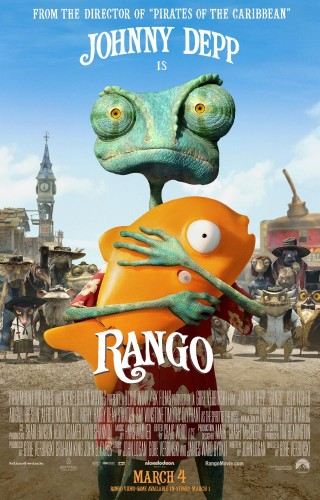 Just return from the cinema where watched "Rango", a cartoon that I've been waiting for a bit after seeing the trailer.  I have to say that trailers for this animation are slightly better than the final result, but not by too much.  It is a rather brave take on westerns with way more blackness and drama than most other kid's animations allow.
It was a bit slow at places, and for Maxim's taste there was a bit too much talk, but the story was good, the characters were interesting, and the whole feel to it was … unfamiliar.  If it was a movie, it would probably be one of many.  But being an animation, it stand on its own.
Music deserves a special attention.  There was as much of it as you could squeeze into a film without making it into a musicale.  It helped with atmosphere, entertainment, and more.  It changed from Mexican el mariachi to classical orchestra and back.  It faded from background to foreground and back.  And it was by my movie measures exceptional.
Overall, I'd rate the animation as 4 out of 5.  Recommended for adults and for older kids mostly, but anyone would probably enjoy it.
P.S.: If you are watching it in K-Cineplex Limassol, make sure to pick up your portion of nachos with cheese sauce at the cafeteria, which are a special served for this movie only.  Helps with the whole Mexican atmosphere, and they are indeed yummy.