WordPress plugin : Auto-Schedule Posts
You gotta love WordPress!  For anything that you can pretty much think of, there is a plugin already.  Just now I realized that I've been posting quite a few things at once, and that it would be way better to distribute such moments of "creativity" across the whole day.  There is, of course, the manual way of post scheduling, but that's boring and annoying.   Instead, I thought, there could be a plugin to do so.  Gladly, I checked the WordPress plugins before jumping into my own coding.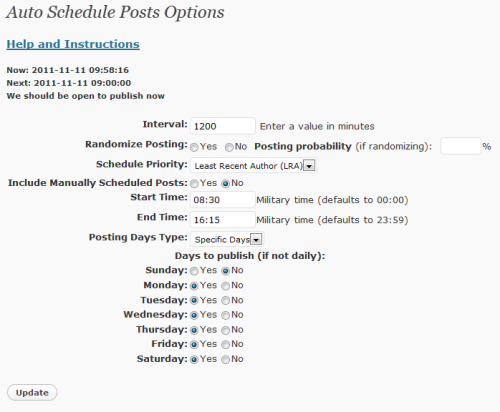 Auto-Schedule Posts plugin does just that and more.  For now, I'm setting it to a 60 minute interval and leaving everything else default. Let's see how that will work out.
Update: Unfortunately I had to disable this plugin as it conflicts with the Social plugin (and, I suspect, many other ones too).  The post is not available until later, yet social network notifications are being sent out, resulting in bad experience (endless redirect loops and such).