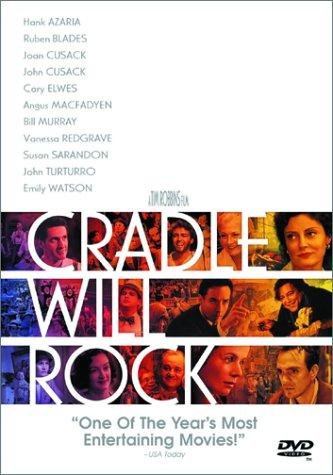 Noone in the shop could tell me anything about "Cradle Will Rock". I couldn't remember any trailers or posters either. The list of names on the DVD cover looked impressive, so I rented it.
Directed by: Tim Robbins
Genres: Drama
Cast: Hank Azaria, Rubén Blades, Joan Cusack, John Cusack, Cary Elwes, Philip Baker Hall, Cherry Jones, Angus Macfadyen, Bill Murray, Vanessa Redgrave, Susan Sarandon, Jamey Sheridan, John Turturro, Emily Watson, Bob Balaban
IMDB raintg: 6.8
My rating: 7.0 [rate 7.0]
I wasn't wrong. The film turned out to be excellent.
I've seen several films that show theatrical play in development. As far as I remember, I liked all of them. I don't know why. Maybe it is a theatre lover inside of me. Or maybe because theatre demands more acting and directing talent attention.
"Cradle Will Rock" is an original movie. It mixes the theatrical play development with pre-Second World War political tension and adds a lot of personal drama to the mix.
With all of that, it is a little bit difficult to follow in the first half of the film. Things get developed slowly and it is not always easy to make sense what is what and why is it there. Excellent casting helps the situation a lot. Actors deliver that personal touch that makes the film interesting to watch even without making much sense.
Towards the second half of the film situation changes. I could suddenly make sense of everything that was happening. All those many characters became clear to me. All story lines started to merge. The more they merged, the more I was sucked into the film. It was an amazing feeling.
Another good side of the film was that it was ver positive. Surely, it touched upon some ugly issues of life in society, but it never lost its huge positive charge. Happy ending was expected from within the first few minutes of the film.
Overall, I enjoyed it a lot. I can't recommend this film to everyone out there as it is not a simple and easy going one like most of the Hollywood crap these days. But if you are in the mood for a good film, make sure you watch this one.