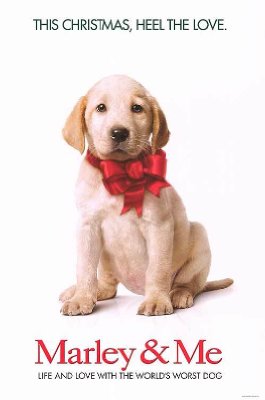 The other day I went to the cinema to see an action movie.  But for some reason, cinema management decided to swap the times and I ended up in a totally different film, one that I didn't really want to see, but which was a better home than to return home – "Marley & Me".  By the way, the poster at the cinema is different from the image above.  Poster shows Owen Wilson and Jennifer Aniston, and a little puppy.  If it was only for the puppy, I'd have gone home.
Now that I've seen the film, I am actually glad that I didn't go home that day.  It was totally worth it.  Yes, it had bits and pieces of your stereotypical romantic comedy and all the bits and pieces of a pet movie, but it had more than that.  Firstly, there were parts that were really funny.  And then there were parts which were really sad (even though, I have to admit, that I didn't drop a single tear, not very usual).  But the best part, if you ask me, is how the family life was shown.  Particularly, married life, with kids.  When moods swing, things change, but the main stays.  And also how close sometimes a family gets to falling apart, and how it's only a tiny little bit of patience that decides if it will stay together or break.  I've seen many movies that tried to show this, but it was the first time that I've actually seen it done.
Overall, I'll give it a 7 out of 10.  It's entertaining, emotional, and has a few things to think about.  Good movie.