You can read all the books in the world and know all there is to know, but if you don't follow the wisdom and practice the knowledge, then it's all useless.  That's my lesson from yesterday.
The Tao of Backup, which I linked to before, says: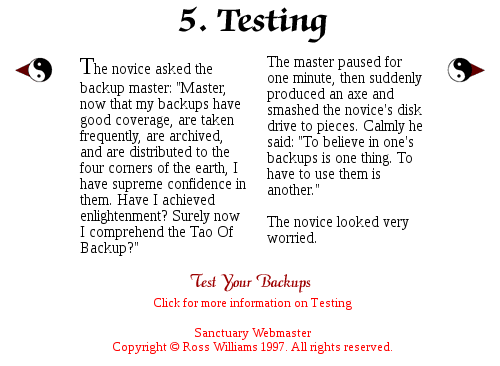 So, what happened?  Well, as I was preparing for the Fedora 24 installation, I wanted to backup some of my files, as the partition would be formatted.  I've connected an external USB drive with plenty of space and ZIP-archived a few of the vital directories on to it.
That was a very simple backup procedure and I saw the resulting files on the volume.  What else should I do, right?  Wrong!  I should have tested the restore.  I didn't.
Most of the directories that I backed up were small – /etc, /opt, /root.  But my /home directory was about 20 GBs.  The external USB disk used the FAT-32 file system, which has a 4 GB file size limit.  So only the first 4 GBs of my /home folder were backed up.  Funny enough, those files were mostly browser cache and image thumbnails – stuff that should be ignored from backups.  The main two folders that I wanted – Desktop and .ssh were not part of the backup.  And I only realized that after the partition has been formatted.
So, yeah, I should have tested the backup.
P.S.: Gladly, I do have backups elsewhere, and most of my work is committed to GitHub/BitBucket anyways.