Here is a nice collection of screenshots (with some comments) from some really hardcore developers – people who are behind things like operating systems and programming languages, not the latest hipster startup that nobody will remember n three years.  Better even, the screenshots were taken in 2002 and now, 13 years later, reiterated.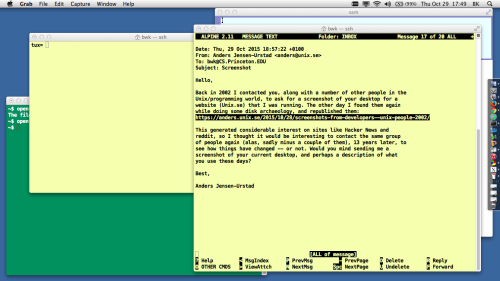 Two things I found interesting here:
Pretty much everyone calls their setup "boring", yet it's obviously slow functional that very little changes over time.
Some of these screenshots feature setups so basic, that for those people who are not too familiar with the applications used, it would be difficult to choose which screenshot is from 2002 and which one is from 2015.
And while I'm nowhere near that level of developer, I still have to say that my desktop hasn't changed much in the last 13 years either.  I am spending my days in the MATE Desktop Environment, which is a fork of Gnome to maintain the awesome Gnome 2 interface and not all that craziness of Gnome 3.  And like many other people featured here, I mostly use the browser and a gadzillion of terminal windows for my work.  I also have Vim keybindings burnt into my fingers, and I can't imagine switching to something else ever.  Here's how it looks today.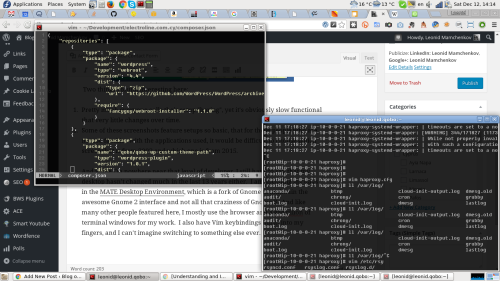 I'm sure there must be a screenshot of my desktop from back in the days somewhere on this blog, but I don't think I'll find it.