I am a well known Google fan.  But even those who call it an Evil Corporation and a Global Spy, can't argue with the awesomeness of these news:
Starting today we're rolling out the ability to export a copy of your Gmail and Google Calendar data, making it easy to back up your data or move to another service.

You can download all of your mail and calendars or choose a subset of labels and calendars. You can also download a single archive file for multiple products with a copy of your Gmail, Calendar, Google+, YouTube, Drive, and other Google data.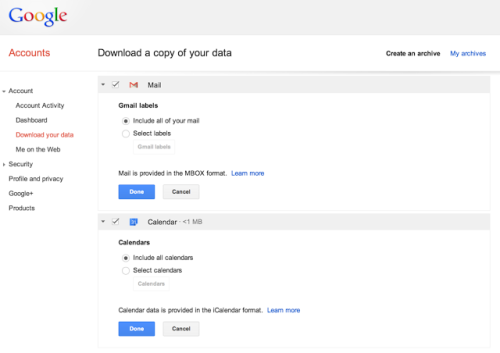 Most of the 20 GB of data I store on Google Drive is actually my email archive.  I've imported email into my Gmail from as early as 1998 – much, much earlier than Gmail was even born.  Having a way to export them all out in one go, without using clunky POP or IMAP is much appreciated.