Fukushima butterflies mutations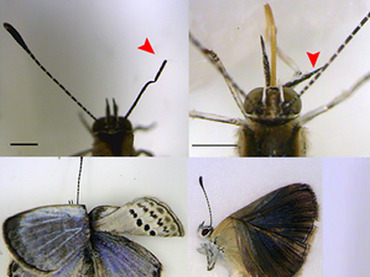 Genetic mutations have been found in three generations of butterflies living near Japan's crippled Fukushima nuclear plant. The gruesome discovery has led scientists to fear that the leaking radiation could affect other species.

The study was published by Scientific Reports. Researches said that around 12 per cent of pale grass blue butterflies that had been exposed as larvae to nuclear fallout developed abnormalities, including broken or wrinkled wings, changes in wing size, color pattern changes, and wider-than-normal variations in numbers of spots on the butterflies.

Though the insects were mated in a lab well outside the fallout zone, about 18 per cent of their offspring displayed similar problems, said Joji Otaki, an associate professor at Ryukyu University in Okinawa, in southwestern Japan.

That figure rose to 34 per cent in the third generation of butterflies – even though one parent from each coupling was from a group unaffected by radiation.

Researchers also collected another 240 butterflies in Fukushima last September, six months after the disaster. Abnormalities were recorded in 52 per cent of that group's offspring – "a dominantly high ratio," Otaki told AFP.