I know I am biased when I talk about Apple.  I am a Google fan-boy and an Open Source advocate.  Apple doesn't go well with it.  But even I've been heard giving the credit where it's due.  In the same way, I've been heard criticizing Google at times.  Now, it's Apple time.  Big time.
People were scared of online shopping back in 1998.  Companies were slow to adopt it, worrying about fraud and such.  But these days, in March of 2012, online shopping is a done deal pretty much.  Everybody who needs it, has it.  Everybody knows how to use it.  And so on and so forth.
One would assume, Apple, being one of the leading technology companies, would be sitting tightly on the bandwagon.  And they do.  A bit.  If you are in the USA.  Or maybe a few other countries.  But if you are in Cyprus, which is, by the way, a member of the European Union, here's how you do online shopping with Apple.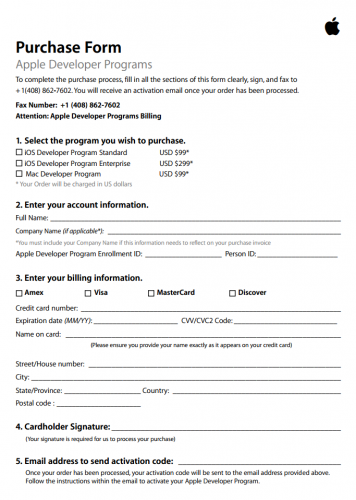 You donwload a PDF file, print it out, fill the form, and fax (!!!) it to Apple.  And then you wait… Really Apple, fax?  What happened to online purchasing?  After all, there are only $99 and $299 options there.  It's not like I'm buying an airplane. #FAIL