My online video experience until very recently was limited to watching clips directly on YouTube and Google Video, and downloading episodes of Diggnation once in a while.  There are of course more places and worthy video podcasts on the Web, but I just didn't have the right tool, and I didn't bother enough.  But all of that had changed.  A few days ago I stumbled upon Miro.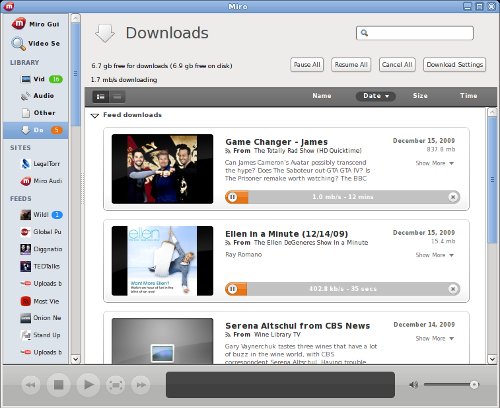 So, what's Miro?  Miro is a cross-platform (works on Linux, Mac, and Windows) application for downloading and watching online videos.  It has a really simple and straightforward interface and does a lot of magic by itself.  You just search for things that you are interested in – either by keyword or by category – review the list of results, subscribe to shows that you like and Miro automatically downloads them to your computer.  You can watch those shows any time later.  Even when you are not connected to the Internet (such as on the airplane for example).
You can search through downloads, sort them in a number of ways, etc.  After you have seen the video, you can either delete it or keep it.  If you do nothing about it, Miro will keep it on your computer for a few days (defaults to 5), and then will delete it to save some space.
Miro also comes with a built-in video player, so you don't need any external ones installed.  On Linux, Miro supports two back-ends – gstreamer and xine.  I had a problem with gstreamer not playing any audio, so I switched to xine and everything is working nicely now.  As an extra bonus, Miro's video player remembers your last position for every video you played.  So if you just stop the playback and decide to continue later, you won't have to fast forward – Miro will just automatically start playing from the point where you stopped.
Miro supports a number of sites for video downloads.  With YouTube, for example, it downloads a high definition (HD) version of the video by default, if its available.  Also, torrent sites are supported and Miro handles them automatically as well.
Miro is such a simple and useful tool that it changes the way you see online videos.  For example, before Miro I could only handle just a few podcasts, but now I am subscribed to dozens.  It's like an RSS aggregator for online video.  It'll make you want watch more videos.  And it will make it extremely easy to do.
Obviously, I can go on and on about how wonderful it is, but instead of listening to me, you should get Miro and give it a try.  Let me know in the comments if you liked it at all.