As I mentioned earlier, Masters of Dirt – world-wide known group of free-style motocross riders – were coming to Cyprus for a few shows.  I went to see their show in Limassol yesterday.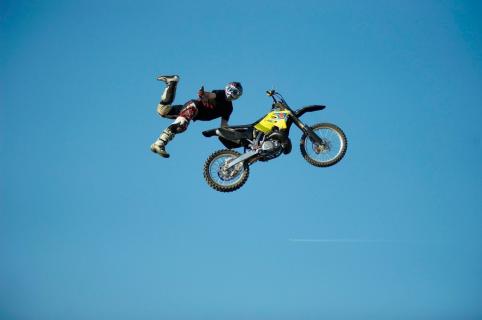 In brief, I had an excellent time.  There were a few people who were trying to spoil the fun (DJ Mousaka) or were not quite up to the par with the show (The Fuel Girls), but that was easily compensated by the Masters of Dirt.
Taking the unimportant out of the picture, imagine this: loud hard rock music (Rammstein, Marilyn Manson, AC/DC, and such), fireworks, and motocross bikes jumping off the rump one after another, doing all sorts of crazy stuff in the air!  Pure awesomeness!
The show started with some warm-up tricks, which looked like anybody can do them, slowly progressing to more difficult ones and to group jumps in pairs and "trains" of four.  After a little break they went totally insane.  It was non-stop action from four riders, who were later joined by a quadro-cycle rider.
My favourite bit was when they did the back-flip  progressions.  I am not very familiar with the free-style motocross sport, so I learned a lot.  They were calling for the name of the trick ("tsunami", "cancan", etc) and had two riders – one was doing the original trick, and the second one was doing the back-flip variation of it.  That is the same jump and move while the motorbike was doing a back-flip in the air.  Some of the original tricks looked very difficult. However their back-flip variations were in the "impossible" range.
If you haven't seen their show yet, here's your chance.  They will have another show in Limassol tomorrow, Sunday, June 28th.  I suggest you catch it.  And if you have any kids – make sure they see it as well.  Tickets are 30 EUR for adults, 25 EUR for minors, and entrance for kids under 6 years of age is free.  I had Maxim (4.5 years old) and he enjoyed the show quite bit too.
Highly recommended.