Yesterday I came across a bunch of my old files. Some things dated back to one of my first jobs in 1999. Others were slightly more recent, but almost forgotten about. One of these recent collections of files was the beGucho project. I did it with a few friends of mine (Michael, Slava, and Igor – the guy who helped me with the theme of this blog), but somewhere on the way we got lost and the project faded out. It was actually released back in June 2006 (I blogged it) and survived for a month or two. Here is a screenshot of how it looked like (slightly resized):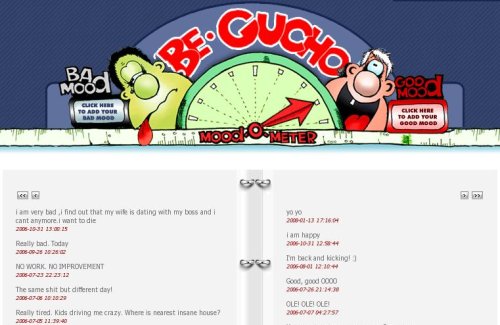 The idea was basically to have a mood-o-meter of the web in a sort of Twitter style. (We haven't heard of Twitter back then). People would just come in and share their mood with the rest of the world. There were two short comment forms – one for bad mood and another one for good mood. Scales with a huge arrow at the top of the page were indicating the current mood of the web. History of all moods was available in archives and via RSS feeds. The whole thing was written in Embperl and was lightning fast and extremely simple.
But as I said, the project didn't take off and was taken off the web without anybody actually noticing it. Still, we had a lot of fun building this thing, and I've learned a thing or two about team working and user interface design.