Either I got older or my organizational skills failed me (most likely) or something else or both, but I forgot to blog about Limassol Grand Carnival 2007. It took place, as usual, over Makariou Avenue, last Sunday afternoon.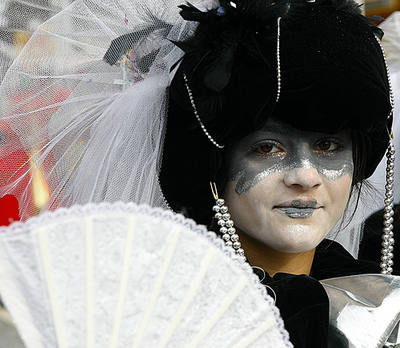 This year the theme was "Love". I don't very much remember what were the carnival themes of other years, but I don't find this one to be a very good choice. For many people carnival is the only time a year when they can dress any way they like and when they can be anyone they want. Far too many of them choose to be "sexy girls". Maybe that's only in Cyprus, but I don't know, since I haven't been anywhere else. I've seen about five carnivals altogether, and each one of them had its share of mini-skirts, boobs, butts, and other attributes of "sexy girls". This year, these were doubled.
Still, I had good time. The weather was perfect for photography and the moods were festive. I've noticed more younger people participating – both in the main show and in the crowds along the road.
Also, for the first time ever I've actually liked those huge dolls. Not all of them, and not even many. Just one. But it was really good.
I hope the tradition continues. Even though most of my friends don't feel like getting out into the crowds once a year. And I don't feel like participating in all the costume show fun…