So far I've read that one of GMail's goals is changing people's attitude towards their email storage. With huge, and evergrowing, inbox sizes people don't have to delete any messages anymore. They still can, if they wish so, but they don't have to.
After using GMail for some time, I noticed that one of my other attitudes is changing. I've always been on the opposite side of HTML email lovers. And I still believe that HTML email is evil. But there is a but.
With GMail, all email is HTML. I mean you're already in the browser, aren't you? So, how does this affect things?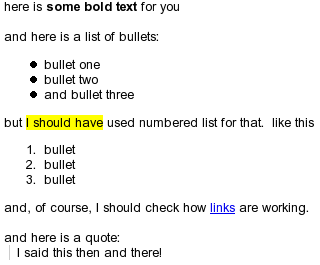 GMail can be used to email yourself some pretty looking HTML emails. Things like lists, highlighted text (think: yellow marker), and links with descriptive captions instead of Really Long URLs ™ can really enrich your email experience. Notes, outlines, and shopping lists are among some really frequent content.
And the beauty of it is that with GMail you are always sure that it will display exactly as you wanted it, and that you won't get complains like "Send me the text version of that", granted that you only email yourself and other people who use GMail (except those psycho geeks who use GMail via POP access only, with a text-only mail client).
If used appropriately, this can make world a tiny bit better. And you know, I'm all for that.