I've got an email today from my blogosphere fellow friend Sanjay. He hasn't posted any updates to his website recently, but he has all the reasons in the world. Today, he got engaged to a really beautiful woman Vijetha. Boy, do they look nice together! (Yes, he sent me the picture, but I'm not posting it here. Yet.)
I am a very frequent happy birthday wisher. But engagements – they don't happen so often. Not around me, at least. To have a birthday, all it takes is to live through one year of your life. But to get to an engagement – that's a long road. It takes some people longer than they live.
Needless to say, I'm glad to hear the good news! Sanjay and Vijetha – you guys have fun! Enjoy it! My best wishes to you two, and to both your families.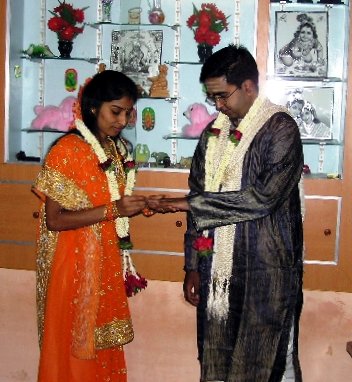 P.S.: Since I have the permission now, I've posted the picture as well.