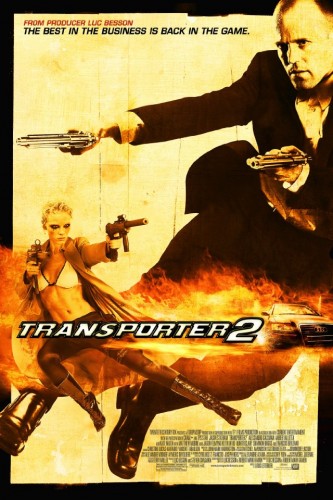 I've been eager to see "Transporter 2" since I finished watching the first film. I got my dirty hands on it today. Finally!
Directed by: Louis Leterrier
Genres: Action, Crime, Thriller
Cast: Jason Statham, Alessandro Gassman, Amber Valletta, Kate Nauta, Matthew Modine, Jason Flemyng, Keith David, Hunter Clary, Shannon Briggs, François Berléand, Raymond Tong, George Kapetan, Jeff Chase, Gregg Weiner, Gregg Davis
IMDB raintg: 6.3
My rating: 8.5 [rate 8.5]
And I am impressed. This film is even better than the first part. It is an excellent mix of so many good movies. Evil guys and their plans, overall charm and nice cars, together with the stylish main character remind very much of James Bond movies. Car chases and martial arts cover the film with atmosphere of the first Transporter. Lots of fights with many household items look like a tribute to Jackie Chan's work. The mix of French and English humor in the middle of action sequences somehow made me think of Jean Reno. Special effects sometimes reminded "The Matrix", and sometimes all those silly movies that try to copy it. The story is very similar to "Man on Fire" – the coolest action drama released recently.
The film is very intense. Lots of action packed into a small time frame (only 87 minutes including the titles) with plenty fights, car chases, guns, explosions, and stuff like that make into a really good movie. I had much more than I expected.