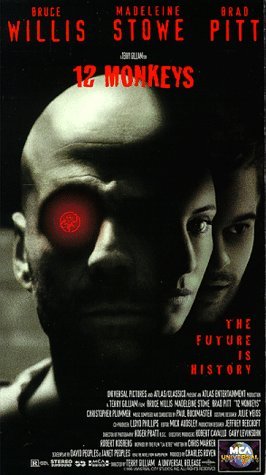 Today I watched or rather rewatched "Twelve Monkeys". It's been a long time since I saw it last time and I practically forgot it. I couldn't even remember who was playing in it except for Bruce Willis.
Directed by: Terry Gilliam
Genres: Drama, Sci-Fi, Thriller
Cast: Joseph Melito, Bruce Willis, Jon Seda, Michael Chance, Vernon Campbell, H. Michael Walls, Bob Adrian, Simon Jones, Carol Florence, Bill Raymond, Ernest Abuba, Irma St. Paule, Madeleine Stowe, Joey Perillo, Bruce Kirkpatrick
IMDB raintg: 8.0
My rating: 6.0 [rate 6.0]
After watching the film I am left with this sad feeling. I don't know why, but I think I had the same feeling the first time I watched it too. The film is dark gray and depressing a bit. Even the happy ending doesn't feel like a happy ending…
On the acting side, I really liked Brad Pitt. He outperformed everyone else in the film, and he even outperformed some of his other roles. Playing a mentally insane is a touch job and only a few actors can do it properly. Brad is one of them.
I also liked how surrealistic and depressing "the future" was pictured – excellent special effects, camera work and make-up. All those screens, lenses and windows did a great job in creating the atmosphere. Oh, the outlawing of heterosexual activities was a nice touch onto it all.