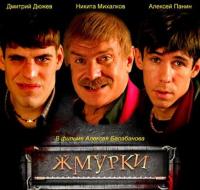 The spell is on me. The spell of watching terrible terrible Russian movies that I don't even want to watch. I don't know how it happens actually. Magic. Black magic. I watched "Zhmurki" today…
Directed by: Aleksei Balabanov
Genres: Comedy, Thriller
Cast: Aleksei Panin, Dmitri Dyuzhev, Nikita Mikhalkov, Sergei Makovetsky, Viktor Sukhorukov, Dmitri Pevtsov, Kirill Pirogov, Aleksei Serebryakov, Andrei Merzlikin, Yuri Stepanov, Grigori Siyatvinda, Anatoli Zhuravlyov, Garik Sukachyov, Andrei Panin, Aleksandr Bashirov
IMDB raintg: 5.1
My rating: 2.0 [rate 2.0]
There were few better movies released recently and I started to think that movie industry is getting better in Russia. If it does, than movies like this are stones on the way. This film should've never been released. It should've never been promoted. And I should've never watched it.
First of all, it is really poor attempt to match some of the best movies in the genre of criminal action "Snatch." (overall gang activity), "Lock, stock, and two smoking barrels" (overall gang activity, as well as a gangster with a kid), "Payback" (bullet extraction), "Pulp Fiction" (two gangsters are after a precious case for their boss), "Reservoir Dogs" (Simon is trying to copy maniacal Michael Madsen. I even thought he would cut cop's ear when he went for the knife.). But it lacks the talent, class and style. This movie is as stupid and simple as it can get.
Secondly, this movie takes the problem of all Russian movies – dialogues – to the extreme. Not even one person talks like a real life person. It sounds more like a bad soap opera – all emotions are overdone, pauses are artificial, and the whole thing sounds very unnatural. It's almost like every person is waiting for a signal to talk. And the voices they use… Eh, yuck.
Thirdly, this movie is truly pointless. It is not entertaining. Neither it is educational. Not a historic one either. I don't message it was suppose to bring. In closing two minutes the idea of ex-mafia guys being in current government was suggested, but this was not connected with the rest of the movie in any way and it is also too obvious – not a secret. Everyone knows it.
If everything was so bad, than you might wonder why did I give this movie 2 out of 10 than? Music was not bad. The soundtrack reminded me a couple of other successful Russian movies. That got a point. Another point was for a couple of jokes/funny scenes that didn't change my attitude towards the film, but made it a tiny-miny bit better.
If you have a choice – skip this film. Don't watch it. It's a waste of time.