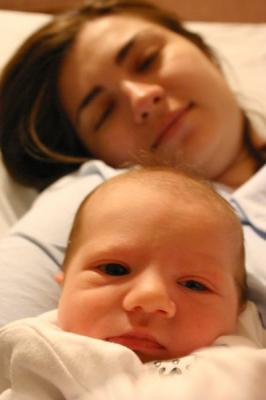 First full day in the fatherhood is over. I've learned a whole bunch of things today.
I am still pretty worried picking up Maxim, but I am building confidence fast. I've also feeded him from the bottle twice today. He seems to like it. The first time I did it, he looked at me very surprised and ate just a tiny bit. The second time though, he ate the whole bottle! Even the nurses were surprised when I brought back the empty bottle. There were plenty of milk – three of four times his normal intake he ate in one go. Nice!
I am also always around when they are changing his dipers. I am not touching it yet, but I observe. Maybe tomorrow I will try it. Don't know.
We also tried to give him the breast today, but he doesn't like it. Actually, he doesn't seem to understand what it is and what it's for. Maybe because it's empty. Olga is still not allowed to drink any fluids, except that one cup of tea they gave her for the evening. Tomorrow she will start drinking water and tea, and maybe even eating. This should improve things in the "I am the dairy faery today" departent. We'll see.
I am also trying to find my way around with the camera. It's pretty dark when Maxim sleeps. Anyway, I am learning a few things there too.
Album location: /photos/2005/2005-02-24_Maxim_-_1_day_old