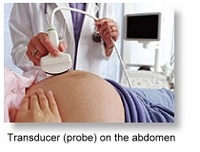 Today Olga went for the second ultrasound examination. Of course, I've accompanied her to get all the juicy details and see the kid for myself. According to examination, everything goes as planned. Everything is normal and the baby is growing good. The baby is about 370 grams now. They are able to determine weight by measuring the size of differnt parts of the body, like head diameter and leg bones length.
The important discovery was that according to this examination we are going to have a boy. Don't you just love the technology? :)
Yet another video tape was recorded and plenty of screenshots were made. I will scan the pictures shortly (as soon as Alex will give me back his scanner). Digitizing video tape seems to be problematic for now due to differences in PAL/SECAM/NTSC/etc. We are still working on the way to do it and as soon as we'll have it I'll upload it here for you to enjoy.
Updated (19 Dec 2004 09:43): Video of this examination is here (135 MB).