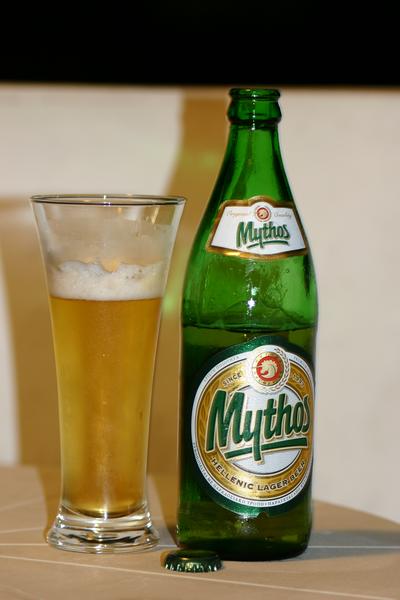 I've got only one picture for you today. But one is all you need. I took the picture of the bottle which was standing on the balcony table. It was dark already, so I failed to realize that the black border on the top wasn't from the camera, but from the balcony edge. I'll try to remember to use some reference point in the future.
I have tried this new beer today – Mythos. It is a new brand of the Greek lager that they started to sell in Cyprus. I did like the taste of it. It is rather simplistic, low carbonated, a little bit bitter, and soft. It is a kind that is good to drink together with food. It also reminded me of beers I used to drink while in high school.
I forgot to check the price tag, but it wasn't anything high (I've got a pint together with two sheftalias for less then 5 CYP). I guess, I'll be drinking more of it in the future. It is a nice choice for times when Carlsberg is not available or slightly overused.