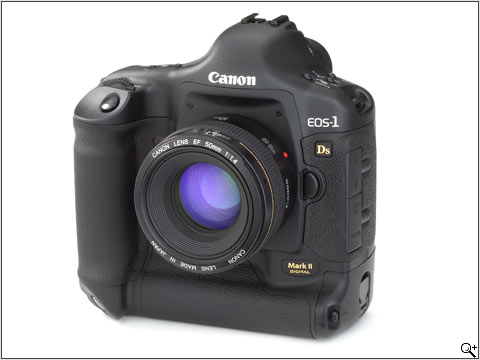 Digital photography is getting stronger and stronger by the day. More and more products come out that are aimed at satisfying professional photographers. Yesterday, Canon announced a new camera that should bring even more people into digital – Canon EOS-1Ds Mark II (also here).
This one has a full 35mm-sized censor with almost 17 megapixels (16.7). It can shoot faster (4 fps) and for longer periods of time (32 JPEG or 11 raw images can fit into the buffer). Recent Canon cameras boot much faster, and this one is no exception – power on takes only 0.3 seconds. Battery life was also improved; 1Ds Mark II can make up to 1200 images at +20 degrees C or 800 images at 0 degrees C using the same batter pack. With this amount of pictures, you'll need some fast transferring mechanism. And Canon provides that too – WiFi adaptor for high-speed transfers. This camera follows another Canon traidition – support for EF lenses, which Canon and other vendors produced in great variety.
The only issue that might stop one from getting in queue for this camera is price. Yup. It will cost around 8,000 Euro, which is way too much for a hobby. Professionals though can afford it.