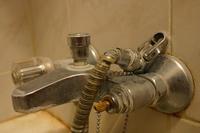 Somehow I failed to get back home from my yesterday's night shift until today's evening. Lots of home tasks and general sleepyness tried to stopped me from doing something for the 'Picture of the day' project of mine, but I am unstoppable.
Without much strength and will to go outside I decided to find something new in my home. And the first thing that pops up into a spoiled mind like mine is, of course, the bathroom. I have made a number of pictures there, which I think are more than enough to represent today in the POTD project.
Check all the pictures here.