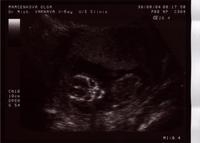 Today, early in the morning, Olga and I went for the ultrasound examination. Olga's internals were checked and everything seems to be OK – liver, kidneys, bowels, and stuff. The baby is doing very well too. In fact it is much bigger than it was supposed to be. And that is because the length of the pregnancy was miscalculated a bit. We are one and a half weeks older. To be exact, we are 14 weeks and 4 days.
For this reason, we couldn't test for Down syndrome. Down syndrome test requires the check to be between 10th and 14th weeks. But the chances that we've got it are small anyways. The next check will be between 10th and 20th of October. During that time, baby's heart, brain, and other internal's will be checked.
Today it was impossible to determine baby's gender, because he or she was always closing the legs or putting hands in there. The baby was moving quiet alot too. I was very suprised…
There is a video tape with the whole examination on it. I gave it to Hazard who kindly agreed to digitize it. As soon as he will finish, I'll upload the mpeg here. More screenshots are available here.
Update (19 Dec 2004 09:42): Video of this examination is here (120 MB).