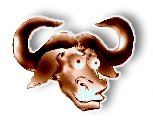 GNU is mostly associated with software, freedom, and UNIX. Today I found out that GNU site has a humor section too. They call it "Laugh along with GNU". There is lots of fun and a lot of it has nothing to do with computers. Take for example, these signs in English seen in different countries.
Two signs from a Majorcan shop entrance:
– English well talking.
– Here speeching American.