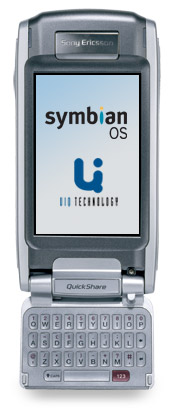 Just a few minutes after I have finished the post on mobile phones, I found out that SonyEricsson has announced P910 – the next model continueing the trends of P800 and p900.
Main advancements seem to be:
Increase of internal memory from 16 MB to 64 MB.
Support for up to 1 GByte of memory via Sony Memory Stick Duo.
Additional QWERTY keyboard on the inside of the flip (see image on the right).
Better screen that now supports 262,000 colors.
They have also added a whole bunch of software such as an Opera browser and GPS navigation program that works with GPS devices attached via Bluetooth.
There is a dedicated page at Symbian.com. There are few more pictures here. And here is a copy of the press release.
Sony Ericsson announces the P910 smartphone-
– Widest choice of input methods, added memory and ideal e-mail platform make the new P910 a must for mobile business professionals
15 July 2004

London � Sony Ericsson today launches the P910 smartphone, offering consumers a top combination of phone, PDA, e-mail and web browsing on the move. The P910 has the widest variety of input methods including keyboard, natural handwriting and T9, so that users can choose the most convenient way to access the phone�s many functions. Triple band GSM/GPRS coverage gives a global level of freedom to use one of the smartest mobile communications tools around.

The P910 makes handling e-mails and web browsing on a breeze thanks to the wide choice of input methods. For example, the new thumb keyboard on the inside of the flip is particularly useful for writing longer e-mails; the five-way Jog Dial is ideal for navigating the phone�s functions or browsing the web; whereas the natural handwriting with stylus on the large colour touchscreen and software keyboard are valuable tools for short SMS messages, taking notes, or adding a new contact or meeting.

Gaining access to e-mail services and handling messages is hassle-free, enabling users to make the most of the extensive e-mail services the P910 supports. The P910 can just as easily be part of a secure corporate IT network, or used by individuals to receive their private e-mail. Sony Ericsson is collaborating with a wide range of e-mail providers, which makes the P910 the perfect e-mail platform, as in addition to Smartner it also supports IBM, Extended Systems, Visto, RIM BlackBerry, Seven and IntelliSync.

New capabilities such as web browsing, e-mailing, PDA and a range of entertainment options puts more demand than ever on the phone�s available user memory. Sony Ericsson has taken this into account and expanded the internal memory from 16MB to 64MB and included a 32MB Memory Stick Duo in the box. The P910 supports up to 1GB Memory Stick Duo Pro, creating almost endless possibilities to store and share images, video, music and business data.

The P910 is based on Symbian OS v7.0, the world�s most popular operating system for smartphones, and the successful UIQ user interface which is based on Symbian OS. As a result P910 offers the widest possible selection of applications on any smartphone available today.

New free or trial additions include Avantgo (offline browsing), Media Viewer (direct access to news such as Financial Times) and Promyzer (real-time market quotes and stock trading). HP Runestone allows messages, pictures, calendars and contacts to be printed directly to a Bluetooth-enabled HP printer. Wayfinder is a navigation tool included on the CD, which works as a turn by turn in-car navigation system when connected to a Bluetooth GPS receiver. P910 comes with the Opera browser, offering a superior Internet experience that presents the full Internet perfectly within the screen width.

Developing new applications for smartphones is the fastest growing area in the developer community and the P900 is the number one product for adding new applications. There are currently over 600 applications which are compatible with the P800/P900/P910, a figure which makes these devices a proven platform for a large community of application developers. Users can even buy and download applications directly over the air to the phone using an on-device application shop.

�Our smartphones combine PDA and telephony functions without compromising on quality, functionality or ease-of-use. Add to that the widest variety of available applications and input methods, and you have a tool that satisfies the most demanding mobile professional,� says Jan W�reby, Corporate Executive Vice President and Head of Sales & Marketing of Sony Ericsson.

The capabilities of the P910 are endless. It includes a digital video and still camera and a range of entertainment options. PC synchronisation of the calendar and address book can be handled over USB, infrared, Bluetooth or even remotely over the air through SyncML. The colour screen now has 262,000 colours and is well suited for picture viewing and editing.

The P910 will start shipping globally in Q3 and exists with five different keyboard variants to meet the needs of different language groups: Qwerty, Qwertz, Azerty, Russian and Greek.

P910i Triple Band 900/1800/1900 MHz
P910c Triple Band 900/1800/1900 MHz for China Mainland
P910a Triple Band 850/1800/1900 MHZ.for North and Latin America

Sony Ericsson Mobile Communications AB serves the global communications market with innovative and feature-rich mobile phones, accessories, PC-cards and M2M solutions. Established as a joint venture by Ericsson and Sony in 2001, with head quarters in London, the company employs 5,000 people worldwide, including R&D sites in Europe, Japan, China and America. For more information, please visit www.SonyEricsson.com

FOR MEDIA INFORMATION, PLEASE CONTACT:
Sony Ericsson Corporate Communications
Telephone: +44 (0) 208 762 5858
E-mail: info@SonyEricsson.com

Any product features, specifications or statements in this document that are not historical facts are forward-looking and involve risks and uncertainties. Actual product features, specifications or forward-looking statements are subject to change.