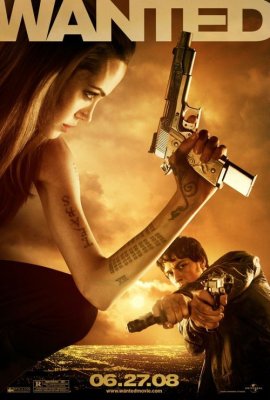 The other day I went to the cinema to see "Wanted".  I've been waiting for this film for some time now, since I liked the trailer and heard quite a few positive reviews from people who saw it earlier. It wasn't a disappointment at all.  On the contrary.  I really liked it.  In fact, I'm planning to go and see it once again, while it is on the large screen, and then I want to get myself the DVD with all the extras and special features.
Excellent special effects, great soundtrack, and quite a few twists in the story – some of which are predictable and some are not – all these makes it into an excellent entertainment.  Of course, Angeline Jolie with gun fights and car chases is a major attraction as well.  Morgan Freeman is a nice addition.  But what I liked the most about the movie is its originality.  Not breathtaking kind, but the kind which really made me watch it in full attention.  Rarely do I come across something from Hollywood and have this feeling.
Overall, 9 out of 10.  Strongly recommended.