It has been more than three years since Google announced their Android platform, but I still remember how excited I was.  I knew that it would be years before I'd own a device running Android, but that didn't matter to me.  It was (and still is) a very cool concept and initiative.  Not everything worked out the way it was supposed to workout, and the process is still in its infancy, but I am super glad that I can finally participate rather than just read about it.  A couple of days ago I spent 355 EUR to buy my first Android device – Motorola Defy smartphone (specs on one page).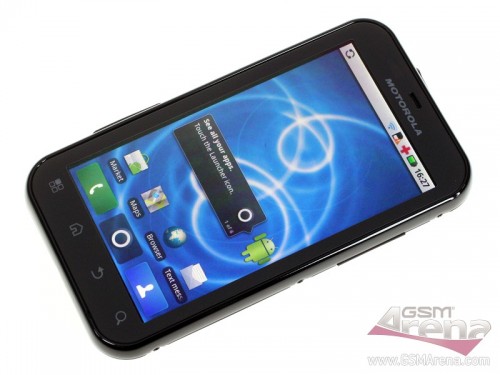 Choosing which smartphone to buy was easier for me than it was for my friends.  While most of them had to count on website reviews and comparison charts, I could actually spend a few minutes playing with different devices, since I was among the last people to get one.  But the decisive factor was this video review (in German, but quite easy to understand even if you are like me and don't speak the language).  See, for me, one of the biggest problems with smartphones is that they are quite expensive, but at the same time, they are too fragile.  No matter how carefully I handle them, it takes only a year and some to render them unusable – touch screens get stack, buttons fall out, etc.  Motorola Defy seemed indestructible by comparison.  Plus it was moderately priced and of a smaller size than most other similar phones.
So far I've been using this smartphone for two days and I am very happy with it.  I am already used to the interface (which differs quite a bit from Symbian that I used on my previous phones).  I am comfortable with configuration options.  And I already went through hundreds and hundreds of applications.  The variety is just amazing.  Anything you could wish for is there – wallpapers, ringtones, games, calculators and converters, news and social updates, and much much more.  And I haven't even started yet with commercial applications.
Of course, as with any other device, there are issues and nuances.   For example, there seems to be an issue with Android devices not being able to connect to ad-hoc wireless networks.  (I guess not many people use them, but I happen to be one of those who needs this often – some of the offices that I work at don't have wireless networks, so I connect my laptop via Ethernet cable and then create an ad-hoc wireless network to share the connection with my phone.  I'm sure that it will be fixed in the future updates.)  But what I get now is different from what I had before.  Before I had to Google for the answers myself, read pages and pages of forums, and fight the problems on my own.  Now, all my friends are using Android devices.  And even though the devices vary, they have enough in common for us to share solutions to problems, cool applications, tips and tricks.  And I absolutely love this bit.
This phone is very much like a modern computer – it's not very useful when offline.  With built-in synchronization of contacts with Gmail and Facebook, calendar synchronization, and support for Twitter, YouTube, and pretty much every other major social network, this phone shines when it's online.
An extra layer of awesomeness is guaranteed by built-in GPS.  And unlike the previous generation of devices with built-in GPS, this time it actually makes sense.  No longer I need to wait for 5 minutes until all satellites are acquired and my position is triangulated.  It just works and takes mere seconds.  My position information can then be utilized by a whole range of applications – camera geo-tagging pictures that I take, Twitter telling where I am, and foursquare which is a lot of fun in itself.
Even though I had this phone for only two days, I've kept in touch with Android platform for years.  So now I can talk about this for days.  It turns out I am as excited about Android as I was three years, and getting myself one was exactly what I needed to do.  My only regret is that I haven't done it earlier.