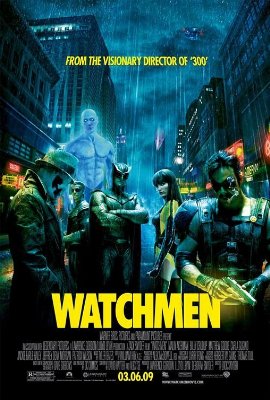 "Watchmen" turned out to be quite a disappointment for me personally.  Maybe that's because I am not much into comics and maybe because I don't know who watchmen are and how they came about.  But still…
The poster was sort of speaking for itself, and film's opening credits were pretty cool.  It started pretty well.  But then it went into a totally different direction.  Instead of being your regular comics-based story with a bunch of good and bad guys, and a fight between them, this time it was all about the psychology and drama of a superhero.  There were quite a few superheros, who, for some reason, didn't seem to be really superheros, but rather a bunch of guys in weird costumes.  They didn't do anything superheroic, didn't have any tricks up their sleeves, didn't care much about anything else.
The visual effects were excellent, but with no base for those effects, no action, they started to grow pretty boring.  And the film went on and on and on (almost 3 hours), and by the time of it I myself was almost falling asleep.  I pulled it through, but barely.
If you are into superheros and everything that surrounds them, then you'll probably enjoy this film.  For me though it was somewhere on the scale of 3 out of 10.