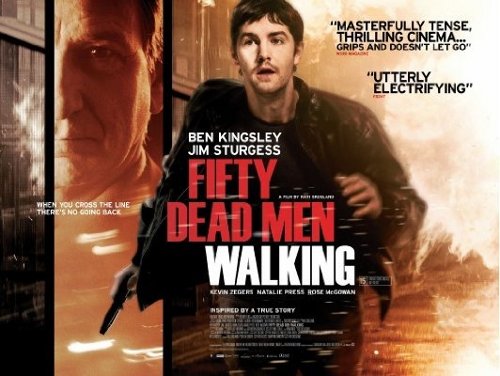 Yesterday I watched "Fifty Dead Men Walking" in the cinema.  As with almost any European movie, there was no promotion of it, no posters, announcements, or trailers.  So I had no idea what was it about when I went to see it.
The film is based on a book, which is based on a real life story of Martin McGartland – a guy who was hired by British police to spy on IRA back in 1980's.  I haven't read the book and I don't know much about Ireland, but that location at that time had a lot of potential for an interesting movie.
However, this movie failed to utilize that potential.  First of all, it was badly executed technically – plenty of reflections, shades, weird lighting, and lots of hand help camera work were quite annoying.   Maybe that's just me, or maybe that's what Hollywood movies do to one's tastes.
While for a real life story is quite impressive, the way it was conveyed in the film was rather slow and sporadic at times.  It was difficult to understand the time frames, as well as some characters in the film seemed to be out of place.
Overall, an average movie for 3 stars.  Perhaps your own opinion of it would be quite different though.  If you want to see this film, try to get it on DVD – it's a bit painful for the eyes on a big screen.