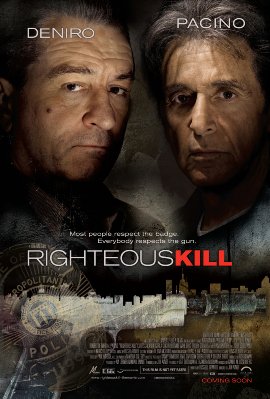 Either one of Robert De Niro and Al Pacino is enough to attract attention to the movie.  When they are both in the same movie – that's something that needs to be seen, no matter what the critics or ratings say.  And that's why I went to watch "Righteous Kill" today.
Altogether, the film was rather average – not much dynamics and action for a police movie, predictable story with a lot of cliches, dialogs really off sometimes, and so, and so forth.  But.  There was enough good acting, and there was enough thought provoking.  I mean it's not a philosophical movie by any measure, but it covers a few morals and gives enough time to the audience to poke around the good, the evil, and the fine line between the two.
Overall, maybe not worthy the big screen, but good enough for a DVD rent.  6.5 out of 10.