I've been a big fan of Amazon AWS for over two years now.  One thing that absolutely blows me away is how much activity there is in Amazon AWS development.  Every day there is an announcement of a new services or updates to the existing ones.  In order to help people keep up with all the updates, Jeff Barr of Amazon was blogging "AWS Week in Review" for a few years.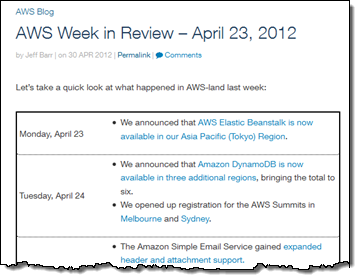 Now, imagine this – there is so much new stuff going on that it takes hours to prepare each of those blog posts:
Unfortunately, finding, saving, and filtering links, and then generating these posts grew to take a substantial amount of time. I reluctantly stopped writing new posts early this year after spending about 4 hours on the post for the week of April 25th.
This is insane!  So he almost gave up on the idea, as it is too time consuming.  But people want it.  What's the solution?  Go Open Source!
The AWS Week in Review is now a GitHub project (https://github.com/aws/aws-week-in-review). I am inviting contributors (AWS fans, users, bloggers, and partners) to contribute.

Every Monday morning I will review and accept pull requests for the previous week, aiming to publish the Week in Review by 10 AM PT. In order to keep the posts focused and highly valuable, I will approve pull requests only if they meet our guidelines for style and content.

At that time I will also create a file for the week to come, so that you can populate it as you discover new and relevant content.
I think that's a brilliant move.  Those weekly review posts are super useful for anyone involved with Amazon AWS.  They should keep coming.  But the time cost involved is understandable.  So crowd-sourcing this is a smart way to go about it.
I hope this will not only continue the blog post series, but also take it to the new level, with more section, content, and insight.
Well done!