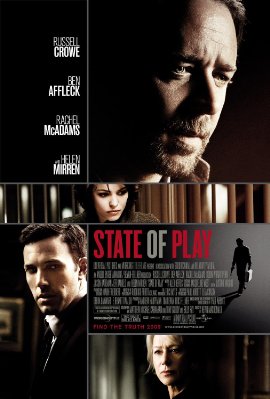 Went to see "State of Play" in the cinema.  I am a fan of conspiracy movies, and the trailer was good too.  And I wasn't disappointed at all.  In fact, the film was even better than I expected.
While there was some action and some special effects, the core of the film is the dramatic story.  And the story is about people, friendship, ethics, and passion.
When I was watching the trailer, I though that it would be nice to see Ben Affleck and Russel Crowe in the same movie.  However, that wasn't so nice.  Because there's way too much contrast.  Ben Affleck, even though a popular actor, has very few things to offer except to his charm.  Russle Crowe on the other hand is an actor.  Who has the charm also.  Putting them next to each other highlights in a very brutal way the huge difference in their acting potential.
Anyhow, I really enjoyed the movie and even now, a few days later, I keep playing back some scenes of it in my mind.  4 stars.