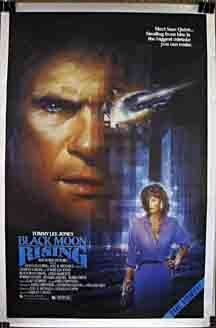 For today I had a totally random choice of movie – no IMDB, no comments, no wishlist. I've got myself a DVD with "Black Moon Rising"
Directed by: Harley Cokeliss
Genres: Action, Sci-Fi, Thriller
Cast: Tommy Lee Jones, Linda Hamilton, Robert Vaughn, Richard Jaeckel, Lee Ving, Bubba Smith, Dan Shor, William Sanderson, Keenan Wynn, Nick Cassavetes, Richard Angarola, Don Keith Opper, William Marquez, David Pressman, Stanley DeSantis
IMDB raintg: 5.1
My rating: 3.0 [rate 3.0]
I guess all my research paid off. I've got as much as I spent looking for it. Really slow and boring film with Tommy Lee Jones non-the-less. Not only the movie was slow and boring, but it was dated 1986. I bet it was slow and boring even by 1986 standards.
The costumes and the haircuts were bad. So were the fights. So was all the acting. And the special effects. But the worst ever was the soundtrack.
It was a pain to listen even for me – a guy who doesn't pay any attention to background sound. During the whole film there were these noises produced by different instruments. They weren't notes or music. They were noises. Random and painful. I thought that maybe the musicians didn't know how to play music. But when it got to some romantic erotic scene, they all finally started to assemble something. I've heard music, even if bad one, but it was music. It continued for approximately 20 seconds and than… back to noises.
Skip this movie if you haven't already. We've got enough newer crap.