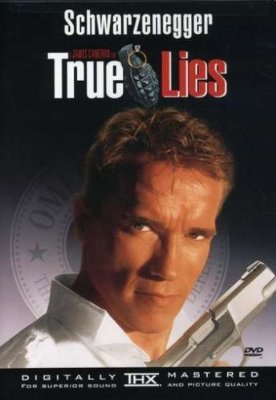 Watched "True Lies" again yesterday.  Now this one is a special movie for me.  I first saw back in 1994 or 1995, during my first ever trip out of the country, when I went to the Flint, Michigan, USA under a student exchange program.  This was "the first" of many things – the first film I've seen in English, the first action film I've seen on the big screen, etc.  It brings back a lot of memories, and it itself is being one huge memory.  Even so many years after I saw it, I still remember it almost to a word.
Obviously, I am very biased in this case.  But I spoke to a few of my friends about this film, and practically every one of them remembers the film quite well and has only good things to say about it.  Even now, decades later, it still looks pretty awesome.  I guess the fact that it has lots of real stunts as opposed to CGI helps it to survive the time.  Also, this film being a mix of action and comedy, even with action bits slightly outdated, the comedy is still there, doing just fine.
Overall, an excellent entertainment.  5 stars.