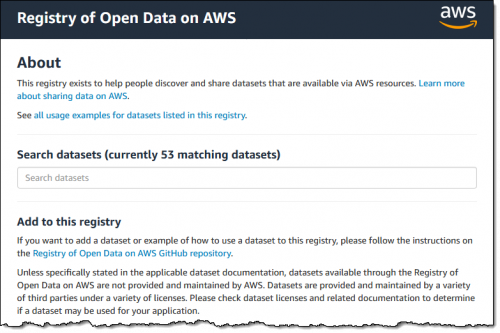 AWS News Blog covers the Registry of Open Data on AWS:
Almost a decade ago, my colleague Deepak Singh introduced the AWS Public Datasets in his post Paging Researchers, Analysts, and Developers. I'm happy to report that Deepak is still an important part of the AWS team and that the Public Datasets program is still going strong!

Today we are announcing a new take on open and public data, the Registry of Open Data on AWS, or RODA. This registry includes existing Public Datasets and allows anyone to add their own datasets so that they can be accessed and analyzed on AWS.
Currently, there are 53 data sets in the registry.  Each provides a tonne of data.  Subjects vary from satellite imagery and weather monitoring to political and financial information.
Hopefully, this will grow and expand with time.