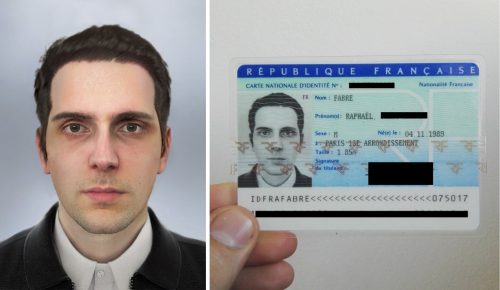 Jason Kottke blog links to an interesting article about a guy submitting a fake, as in computer generated, image and getting his real French ID card.
The photo I submitted for this request is actually a 3D model created on a computer, by means of several different software and techniques used for special effects in movies and in the video game industry. It is a digital image, where the body is absent, the result of an artificial process.

The image corresponds to the official demands for an ID: it is resembling, is recent, and answers all the criteria of framing, light, bottom and contrasts to be observed.

The document validating my french identity in the most official way thus presents today an image of me which is practically virtual, a version of video game, fiction.
The article also links to a different image study, done by, supposedly, Google Street View camera, and then, possibly, manipulated in Photoshop.
I've been involved with some regulated industries (like Forex) which require proof of identity and residence, all submitted digitally (via email or web form file upload). There's always a fair amount of obviously fake images sent in.  But the above two stories beg a question of where does one draw a line.  With the recent technological advances and an increasing reliance on digital ways, how can anybody reliably validate an image as fake or real?
I don't have an answer, but I think the only way here is to fight fire with fire.  As in use technology to do image analysis, rather than an untrained human eye.  Are there well known or well established tools that can do the job?  Not sure about well known or established, but at least some tools do exist.