Daniel Vetter, one of the Linux kernel maintainers, shares some thoughts on why maintainers don't scale, what it takes to do the job, what has changed recently and what needs to change in the future.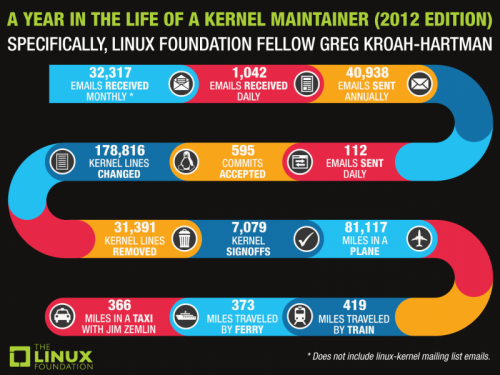 This reminded me of this infographic, which depicts a year (even though back in 2012 – probably much busier these days) for another kernel maintainer – Greg Kroah-Hartman.  Note that the number of emails does not include the messages on the Linux kernel mailing list (LKML), which is in its own category of busy:
The Linux kernel mailing list (LKML) is the main electronic mailing list for Linux kernel development, where the majority of the announcements, discussions, debates, and flame wars over the kernel take place. Many other mailing lists exist to discuss the different subsystems and ports of the Linux kernel, but LKML is the principal communication channel among Linux kernel developers. It is a very high-volume list, usually receiving about 1,000 messages each day, most of which are kernel code patches.