I was very excited when six years ago Automattic, the company behind WordPress, became a domain registrar.  Registering, renewing, and managing domains is still a painful process today as much as it was six years ago.
So, what have the company decided to do with its new super power? Well, they've integrated domain registration with their WordPress.com hosted blogging service.  And now they are promoting the new .blog domains:
Millions of short, easy to remember domains will be available when the .blog domain goes live November 21. Apply now to secure the perfect domain for your blog.
This sounds cool, until you check the prices.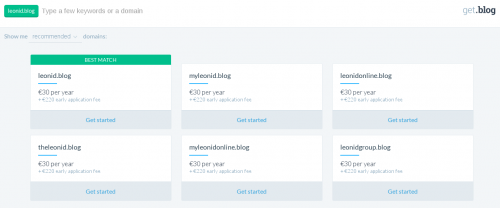 30 EUR per year is not cheap.  But an additional 220 EUR early application fee on top of it makes it a no deal for me.  I wonder how many bloggers out there will go for this.
I understand that managing a top level domain is not an easy thing to do.  Everything from infrastructure to technical support costs money.  But at those prices, I think I'll wait until the technology gets cheaper.  Because it inevitably will.