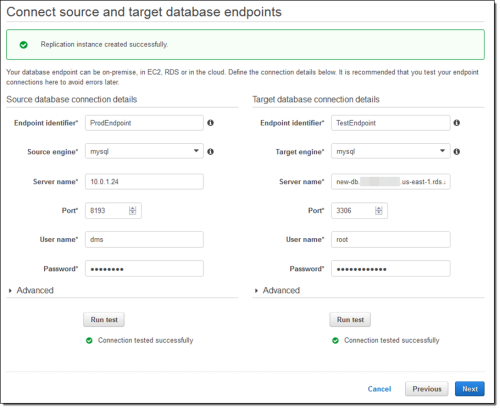 AWS Database Migration Service is yet another one of those tools that you always wished that somebody created, but never actually got to checking if it exists.  Here is a recent blog post showcasing the functionality.
Do you currently store relational data in an on-premises Oracle, SQL Server, MySQL, MariaDB, or PostgreSQL database? Would you like to move it to the AWS cloud with virtually no downtime so that you can take advantage of the scale, operational efficiency, and the multitude of data storage options that are available to you?

If so, the new AWS Database Migration Service (DMS) is for you! First announced last fall at AWS re:Invent, our customers have already used it to migrate over 1,000 on-premises databases to AWS. You can move live, terabyte-scale databases to the cloud, with options to stick with your existing database platform or to upgrade to a new one that better matches your requirements.  If you are migrating to a new database platform as part of your move to the cloud, the AWS Schema Conversion Tool will convert your schemas and stored procedures for use on the new platform.