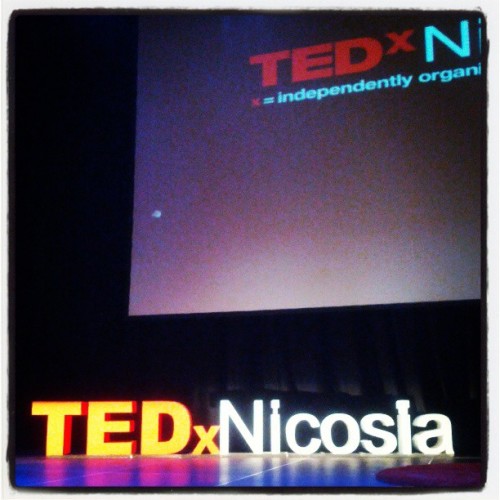 As most of you know, I spent most of the yesterday in Nicosia, attending the second ever TEDxNicosia event.  I know quite a few people who wanted t go, but the event was sold out in 72 hours, and even yours truly missed getting the ticket.  If it wasn't for the kind invite of Marina Theodotou, I would have missed it too.  So, here are my experiences, notes, and thoughts on the conference.
First of all, the venue.  The even was hosted at Pallas Theater in Old Nicosia.  It was easy to find even for, a Limassolian, who doesn't know much of Nicosia (thanks to the GPS technology and Google Maps, of course).  The auditorium is nice, with good acoustics and easy access to seats.  The areas outside of the auditorium were a bit smallish for 500 or so people that gathered for the event.  At times, it was difficult to navigate around, but, on the other side, it brought people closer together.  Those few who wanted more personal space were spilling out of the building and enjoying some fresh air and a quick smoke outside.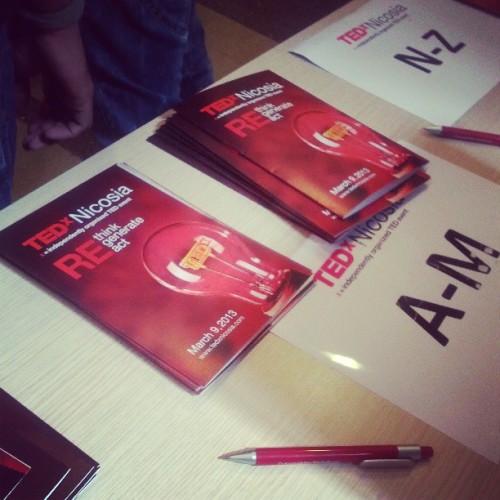 If there I had to name one thing that I wanted improved for the next event, that would access to power sockets.  With all the constant heavy use, the battery on my phone went really low in the middle of the day.  I brought the charger with me, but couldn't find any sockets at all.  Gladly, a very helpful TEDxNicosia crew (thank you guys!) sorted me out.  They found the socket, the converter, and were even kind enough to watch my phone while I was going around, talking to people.
Secondly, the catering.  I know, you can't wait to hear about the actual talks, but we'll get to that.  I just have to say that catering was awesome.  The Get Fresh team were like food ninjas.  You could barely see them moving around, but everybody had quick access to snacks, sandwiches, and drinks.  The coffee was really nice.  And the selection of teas and soft drinks was available.  In the morning, just the pastries, but for lunch – a selection of sandwiches, dips, fruits, and even some brownies.  Trays and trays of food were strategically places all around the area, and I haven't heard any single complain on the selection or quality.  In fact, quite the opposite – many people loved how you didn't have to choose one kind of a sandwich, but could have bits and pieces of different ones – all fresh and delicious.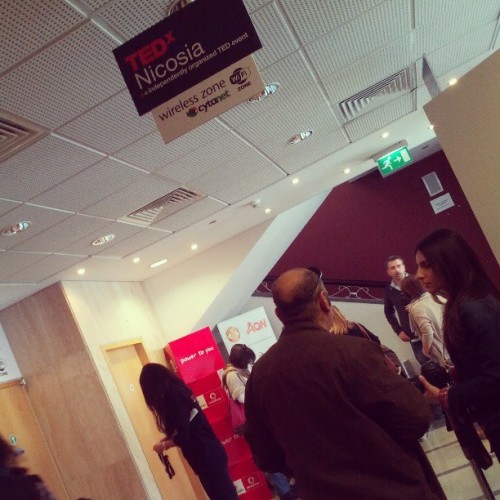 Thirdly, the Internet.  That's the last bit of infrastructure I have to touch upon, before moving to the actual content of the conference.  Free WiFi was provided by CytaNet.  The coverage was good – solid connection on both the first and second floor, and no pin codes or passwords required.  All you need after connecting to the hot spot was to agree to terms and conditions on the website, and you were good to go.  The network hold up rather good, with a couple of downtime episodes (thanks to Cyta Support for sorting those out quickly).   If you read through the tweets, you might think those were disastrous, but I disagree.   I've been to all kinds of events, big and small, both in Cyprus and outside, and keeping the wireless  network up and operational is always a challenge.  It's just the nature of the tech-savvy crowd these days – if they are offline even for a second, they scream and shout in pain and horror.  Personally, I come from the previous generation and don't mind it that much.  Especially, when 3G is working fine even inside the building.
OK, now with all the infrastructure covered, let's get to the content.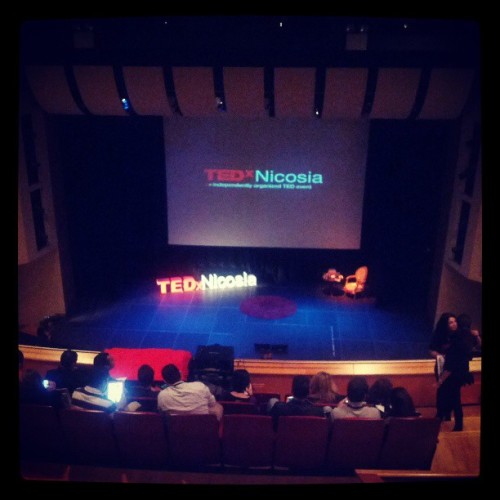 The conference kicked in with the welcoming remarks of the curator and founder of the event – Marina Theodotou.  She also introduced her co-host Rania Traiforos Makriyiannis.
Then, we watched a couple of videos on the large over stage screen.  One was an introduction to TED and another was the TEDxNicosia 2013 trailer.  If I understood correctly, it's sort of a tradition between all TED/TEDx events.
[youtube=http://www.youtube.com/watch?v=L_lPv0igcI0]
The theme of the event was the power of RE (how appropriate for Cyprus!): re-think, re-generate, re-act.   Al talks and performances were centered around this theme.
The first talk was by Stavros Zenios (blog, twitter).   He is one of the many people who are studying the current financial crisis – how we got it, and how we should get out, focusing more on a Cyprus perspective, rather than a generic one.  He was referring a lot to the power of RE, saying that we can't use the same mindset that created the problem to solve it.  We need to change and re-think. It was interesting, but for me personally, it was a bit too heavy that early in the morning. I'm waiting for the video of the talk to watch it again and give it more thought.
Funny enough, even the event organizers knew it was early for people to jump into the thinking process, so there was a handy alarm ring right in the middle of the talk.  It woke up quite a few people around me, making them think and guess what that was – a nice way to force people to think!  Funny too.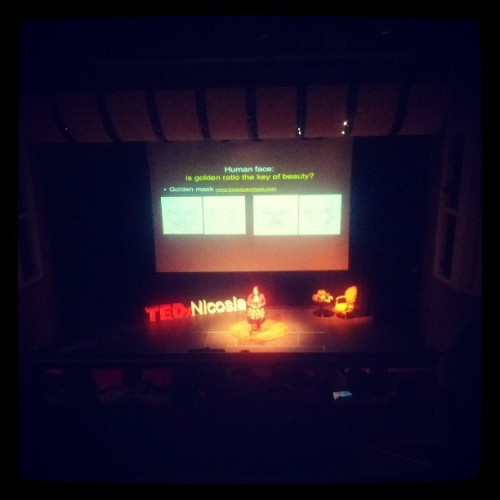 With most people now awake, it was  Dr Katerina Kaouri's time.  She is a hardcore mathematics geek, with a PhD in Applied Mathematics from Oxford University, and Masters degree in Mathematics from Cambridge University.  Her presentation was all about applied maths, and how math is everywhere, and how everything can be represented in math.  She spoke very enthusiastically, and provided a wide range of examples all from Shakespeare's Romeo & Juliette to the recent meteorite explosion in Russia.  She nearly got me interested in mathematical modelling, and you all know how bad math phobia case I have.  Overall, this was my second favorite talk of the whole day.
[youtube=http://www.youtube.com/watch?v=dsmgvrcH94U]
To keep connected with the TED spirit, we watched the above talk by Halla Tomasdottir.  It's serious and easy at the same time, raising important points, and providing examples.  I do agree with the message of it though – embrace the difference and work together.  And while she was mostly talking about men and women, the same message reappeared in a few other talks throughout the day.
The next talk was by Dr Doros Polydorou (twitter).  He spoke about how everything is connected.  How, for example, our brain is useless without the body, and the body is useless without the brain.  Everything, he said, is like that.  I enjoyed his story of working and learning from dancers and their ways of expressing, and combining that with technology like movement tracing, 3D, and time/frame manipulation.
I was recently taking to a co-worker about extracting knowledge and applying techniques from other areas to your profession, like learning medicine or cooking or photography or anything else expands the toolbox of, say, computer programmer.  And how learning other languages (foreign, or computer) improve your native language.  So the talk by Doros hit home for me.
As did the next talk by İdil Seytanoglu (twitter).   She spoke of her own experiences  and travels, and how she was exposed to ethnically diverse environments, and what effect that had on her.  She also spoke about confrontation on the personal level. Way too often do we allow our parents, friends, mass media, and the rest of the environment shape up our own views.  Her story of the "I didn't expect the enemy to look like you" was very inspirational.
The first session of the event was concluded with a Re-Vive dance performance Fibre Performance Acts.  That was something!  At the time, I was sitting in the middle of the top-most row, and I could see most of the audience downwards.  During the previous talks, in the dimmed down lights of auditorium, I could clearly see lights of smartphones and tablets.  People were tweeting, making notes, and browsing the web, checking references.  That, I guess, is quite easy to do while listening to the talk.  But, when the dance performance started, all these lights went off one by one.
It wasn't your generic, "check out my moves" dance.  It was a concept, with a video background and with something … well … weird going on stage.  I think everybody in the audience was just trying to figure out what it was about.  A few of us shared our own understandings during the lunch break.  But I'm not going to post it here just yet.  I'm waiting for the video of the performance to be available, so you'll watch it first and see what you can make out of it.  It was interesting!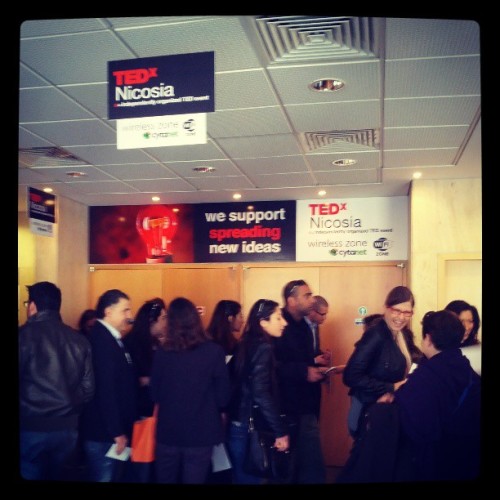 Then we had a short coffee break and went back in for the second session.  That started off with a big thank you to all the partners and sponsors.  These were quite a few, which gives some idea as to how much work organizing an event like TEDxNicosia is.  By the way, on top of all the experiences and networking, every attendee got a bag with sponsor goodies.  I particularly liked the Stella Artois half-pint glass – that will be used heavily in my household.
The first talk of this session was by a guest from Israel – Oren Simanian (twitter).  Oren is an entrepreneur, who helps us entrepreneurs get started and get to the next level.  His whole talk was all about start-ups.  I think his visuals were inspiring.  He showed photographs of Israel 60+ years ago, and now.  Obviously, the difference was staggering.  It took a lot of entrepreneurship to build that difference, he said.  But his main message was – try, try, try, and keep trying.  Mostly, because if you keep trying you will succeed.  And that failure is not only OK, but it is necessary.  It is a part of the process.  The outcome of the talk, I think was, that a lot of people were surprised to learn that Israel is ranked #2 spot in the world (after Silicon Valley) to build a start-up, and that Cyprus can learn something from its neighbor.
Next up was Stephanos Evripidou of Cyprus Mail fame.  Being a blogger myself, I was quite interested in his insider views of how the mass media and journalism are changing.   He confirmed the huge shift of news delivery from newspapers to social media, the decrease of information accuracy and responsibility in exchange for speed and "scandalism".  But that wasn't his only subject.  He also talked a bit about his interest and experiences in post-conflict zones.  And how peace is difficult, because people are passionate, opinionated, and when it's so, it's difficult to sit on the fence or have a civilized debate.  I think he had more to say, but unfortunately ran out of time…
Then, there was a really short poem reading by Diomedes Koufteros, a tribute to Niki Marangou, award winning author, who recently died in a car accident.  While the poem has been read, there was an old map Nicosia on the large screen.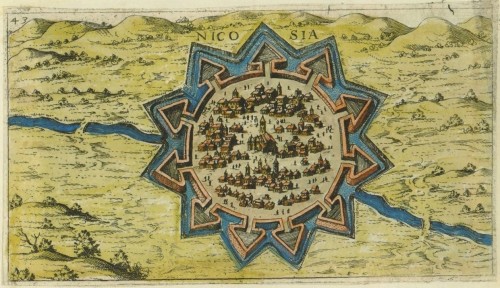 That's where I had my 'wow' moment.  I knew since my first year in Cyprus, that there is "a wall" in Nicosia.  But I never learned that it was a wall around the city, or anything like that.  Apparently, not only that, but there is a river that was used for the fortification purposes.   That's something that I'll have to learn more about.  If you are the same, here is more information about the map above, Nicosia, and star fort, and Ottoman-Venetian war (1570-1573).
Maria Vilanidou was next on stage.  She spoke about finding her way to Reiki, a spiritual practice, and how it changed her life and perception of not only things around, but her within.  It sounded appealing – "It feels like giving yourself a hug".  One thing about this speech was a feeling of peace and calm, so much so, that I think some people started daydreaming…
…just to be awaken by the next speaker – a very energetic Eloiza Savvidou (twitter).  Eloiza was, like a few others yesterday, a motivational speaker.  If you read through her speaker profile, you'll, no doubt, agree that she had quite a journey – from her own early achievements in sailing, through to "expected" career and an adventure of finding herself and her passions, to her current place of a fulfilled individual.
Then came a time of a lunch break.  As previously mentioned, excellent catering  (provided by Get Fresh) helped people to connect and discuss their thoughts and experiences of the event so far.
After the lunch and more coffee, we were back for the third and last session.  It started with another video, which provided a look into behind the scenes of organizing TEDxNicosia.  Have a look at that, isn't it something?!
[youtube=http://www.youtube.com/watch?v=_MJKUP9wj_I]
Once again, huge thanks to everyone involved.  All your hard work is much appreciated.
The next speaker stepped on stage, and the audience exploded in applause.  Apparently, Roddy Damalis (website, twitter) is quite a known character, with a lot of people in Nicosia associating his name with cooking food, and with his multiple appearances on TV, local and international.
Roddy shared the story of his life – more than fair share of troubles and difficulties, from the suicide of his father, through psychological troubles, through almost losing his life in a robber, and up to and including the move to a different country.  The story was tough, but Roddy took it to the next level, sharing it in a very emotional, honest, and open, yet easy and cheerful way.  I don't think there was a single person in the crowd who wasn't touched.  It was a standing ovation, and the best presentation of the day, at least, as far as I am concerned.  It's priceless moments like this that make me want to come back to the next TEDxNicosia event.
Naturally, I imagine, it was difficult for the next speaker – Dr Ahmet Sozen (twitter) – to regain the audience.  He too was talking about his life experiences and work though.  Personally, I found it interesting how his stories of childhood were similar to the childhood stories of my grandfather.  Two completely different people, in two completely different times, and two different countries, but the stories are so similar – childhood war experiences with sounds of explosions and gunshots, soldiers, evacuations, playing with munitions, the fear in the eyes of parents, and so on.  I had to agree with Dr Ahmet Sozen statements that wars should be stopped at all costs, and that absence of war is not necessarily peace, but it's a good start.
Next, there was something, that I can only describe as jaw-dropping experience.  We listened to a 15-year old Yiorgos Ioannou sing.  What's so special about it?  Well, for that, my dear friends, I have no words.  I know that the TEDxNicosia haven't been published yet, so I have to look somewhere else for an example.  YouTube suggests that I show you this last year's episode from "Greece got talent" show.
[youtube=http://www.youtube.com/watch?v=59W0mJ5qMxE]
Now, imagine that voice, with a year more of training and experience, singing "La Serenata"!  Very powerful, amazing, and refreshing.
Jill Douka (twitter) took stage next.  A very enthusiastic motivation speaker, she was one to engage the crowd.  She got people to stand up, introduce themselves to each other and even got them to promise things – all in just a few minutes.  I think that was quite different from all TEDx talks that I've seen so far.  Not exactly my format, but I'm all for people trying different things.
The next thing though, was totally my format – a presentation of "Inside Out" project.  First we watched this short talk by JR:
[youtube=http://www.youtube.com/watch?v=Gn2W3X_pGh4]
And then, we had a group of young people on stage (Kassandra Levantinou, Nicholas Krashias, Katerina Kyriacou), telling us how they participated in the project locally, from Cyprus.
I really enjoyed this, because provided a local perspective into a global project.  A project, that's not just starting now, but has been going on for some time.  Also, the project that is very much about people – thousands and thousands of participants getting photographed, and sharing their stories and statements, all in hopes of making the world a better and safer place.  And a cherry on top of the presentation – beautiful portrait photography displayed on the large screen, while the speakers talk about what and how they did.  That was simply excellent.
The last speaker for the day was Michael Virardi (twitter).  As many before him, he shared his life story, and how he spent most of his years until recently in trying to do "the right thing" and "be the good boy" all the time, only to realize years later that we was trying please everyone around him, always forgetting about the most important person – himself.  He explained how he came to realize it and what it took for him to change, and how he is happy now, doing what he loves and thinks important.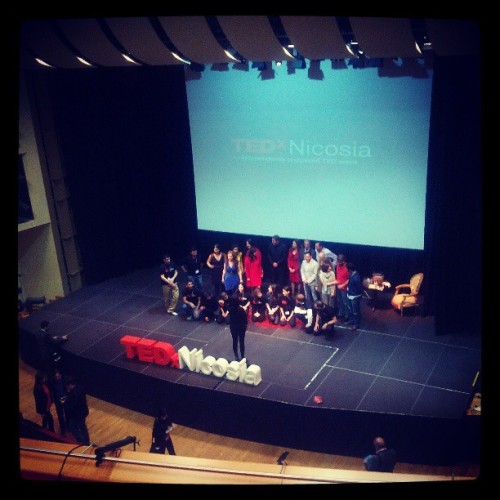 With that, it was time to conclude.  The event ended with some more remarks from Marina Theodotou, thanking all the team members, partners, and us – the audience.  We've also watched on last video, showing us the team behind TEDxNicosia, and what TEDxNicosia was for them.  Here it is.
[youtube=http://www.youtube.com/watch?v=KD1c15GUEc4]
I said before and I'll say it again – I had an excellent time.  It was what, for me, it was supposed to be – an inspirational event which is around the idea of spreading ideas worth spreading.  It was meeting new people, and see familiar faces again.  I'm glad the event is growing, and I hope we'll have another one sooner than later, and that maybe there are more tickets available next time.  Even though, I know the bigger they get, the harder they are to organize, but I'm confident in Marina and her team.
Personally for me, it was thought provoking, and encouraging.  It's nice to know that there are other people who share similar ideas, and that there are others, who take the time and effort to explain their ideas to those who are willing to listen.
One last time – huge huge huge thanks to the TEDxNicosia team for the excellent event and all the hard work that went into it.  I hope to see you soon next time.  And I'm waiting for all those awesome pictures and videos to be published soon.  Thank you.
P.S.: As always, if you find any mistakes or inaccuracies, please let me know in the comments, and I'll correct them.