I think that one of the most underutilized features of WordPress is the image gallery.  It was added recently and all the proper announcements were made, but I still see too many WordPress based sites working too hard to display a bunch of images in post or page.  If you never made an image gallery in WordPress, I suggest you try it.  Maybe you are spending too much time solving your problem using something else.
Trying out the gallery is very easy.  Just attach more than one image to the post, without actually inserting those images to the post, and you'll see a gallery tab in your media popup.  It will look something like that: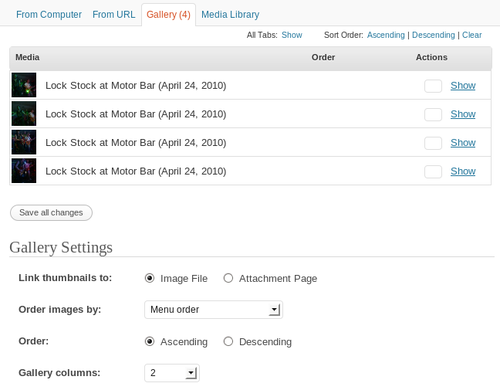 You can  manage the images in the gallery, their order, sorting direction, the size of the thumbnails, number of columns in the gallery, cropping options, and more.  It's a very balanced compromise between flexibility (make it look the way you want) and ease of use (no coding required – all in mouse clicks).
More so, you can use some shortcuts in your blog posts and pages to control the appearance of the gallery.  There is a Codex manual which documents all options and provides examples of use.  Awesome, isn't it?