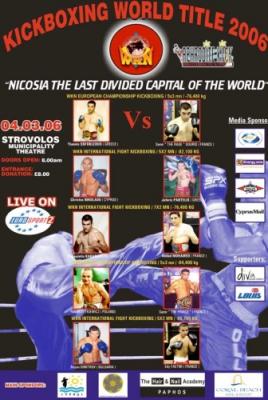 Today I attended a kickboxing competition, organized by World Kickboxing Network. The event was held in Strovolos Municipality in Nicosia.
I went together with a couple of friends who attended on behalf of Two Cobras club, which was helping out in organization.
We left Limassol at around 3:00pm. The event was scheduled for about 6:00pm, so we there would be enough time to organize everything. When we arrived though, we were told that the start of the show was postponed until 8:00pm. The reason for this was that the event would be linked up and broadcast live on Eurosport channel.
So we were going back and forward, learning everything we had to do. I was planning to make a whole bunch of pictures too, so I was choosing the right spots and thinking about light and all the other factors (noisy backgrounds, and ring ropes mostly).
Unfortunately, due to the setup of the ring (on stage) and all TV cameras (about 6 of them), it was physically impossible to get to any proper location. So I decided not to take any pictures at all. I hope you can forgive me. I should have also warned you much earlier in this post that there won't be any pictures here.
With nothing much left to do, I reserved myself with a good seat in the second row. Because of some tecnical difficulties, the start of the show was further delayed until about 10:00pm.
But it was worth it!
Overall there were 5 fights. Each and every fight was exciting. The referee was smart enough not to give athletes any rest at all – they were fighting all the time! Non-stop two hour action.
Also, I think it is worthy to note that the competition was a part of WKN World Championship. Most of the fighters were very experienced and professional. (Consider the guy with 109 fights and 109 wins, who had his 110th fight and 110th win!)
Overall we had an excellent time, although I have to say that three things I wish were better:
photo opportunities
more food
more drinks
But that just wasn't enough to spoil the exprience.