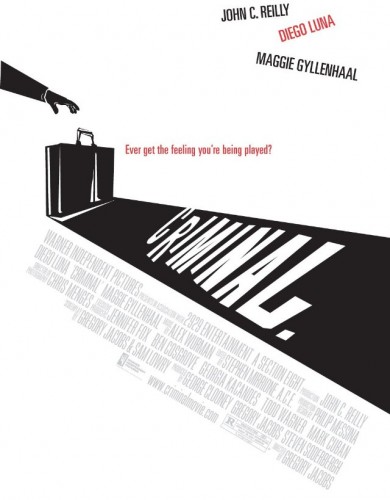 Random pick from a random pyle – "Criminal".
Directed by: Gregory Jacobs
Genres: Drama, Comedy, Crime
Cast: John C. Reilly, Diego Luna, Maggie Gyllenhaal, Peter Mullan, Zitto Kazann, Jonathan Tucker, Laura Cerón, Soledad St. Hilaire, Ellen Geer, Brandon Keener, Nick Anavio, Deborah Van Valkenburgh, Maeve Quinlan, Brent Sexton, Malik Yoba
IMDB raintg: 6.5
My rating: 6.0 [rate 6.0]
This is one pointless movie. I guess the idea was to show some of the tricks con artists use to get money out of unsuspecting population. Other than those tricks there weren't much to look at.
The story was very weak and had lots of plot holes. The ending was totally screwed. It felt like it was stolen from another movie and attached in a hurry.
Resume: skip this film if you have any alternative.