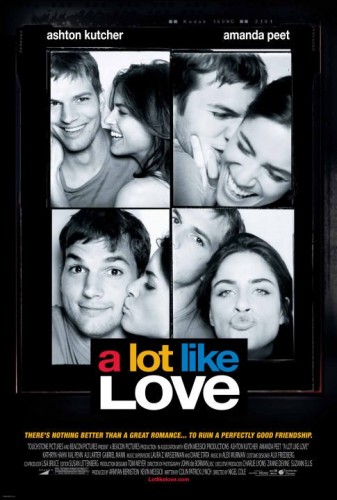 I try to avoid romantic dramas with a touch of comedy as much as I can. But I knew from the start that I won't be able to skip "A Lot Like Love".
Directed by: Nigel Cole
Genres: Comedy, Drama, Romance
Cast: Amanda Peet, Ashton Kutcher, Taryn Manning, Aimee Garcia, Lee Garlington, Birdie M. Hale, Tyrone Giordano, Melissa van der Schyff, Theresa Spruill, James Read, Molly Cheek, Sarah Ann Morris, Gabriel Mann, Kathryn Hahn, Ali Larter
IMDB raintg: 5.5
My rating: 7.0 [rate 7.0]
There are two good reasons for me to be interested in this movie – Amanda Peet and Ashton Kutcher. I really like both of them. Not just the acting, but rather that charm and energy that they have drives me towards their work. Well, and the acting as well. I knew that they would be excellent together in a film like this, and they were.
Everything else doesn't matter – story, music, all that stuff is just unimportant. I've seen it all before and I will see it many times more. But the teamwork of Peet and Kutcher is a different story. They basically glued me to the screen. Yeah, I know that's easy to do, but it doesn't happen all that often.
Resume: if you are even a tiny bit centimental – watch the movie. It was very very good.