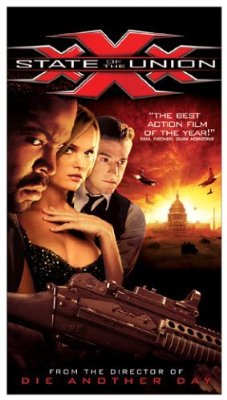 I wasn't very eager to watch "xXx: State of the Union". I am trying to be careful with sequels to good movies. Especially those that don't feature the original character anymore. You can even say that I was avoiding this movie until today. With its IMDB rating of 3.9 is not surprising…
Directed by: Lee Tamahori
Genres: Action, Crime, Adventure, Thriller
Cast: Ice Cube, Samuel L. Jackson, Willem Dafoe, Scott Speedman, Peter Strauss, Xzibit, Michael Roof, Sunny Mabrey, Nona Gaye, John G. Connolly, Ramon De Ocampo, Barry Sigismondi, Michael Don Evans, David Rountree, Ned Schmidtke
IMDB raintg: 3.9
My rating: 4 stars
The film is seriously underrated on IMDB. It's not that bad. It's quite good actually. At least I enjoyed it.
It has the same spirit as the first movie. It is fast, with lots of action, lots of cool talk and do, and not too much bull to it. It is a good mix of butt kicking with consipacy theories.
There are three things that could have been improved.
First of all – Peter Strauss. He did the lousy job of playing the president of USA. I think he was the worst movie president that I've seen.
Secondly, the movie needed more gadgets. There were plenty of special cars, special people and special missions. There was a gadget expert. But there were practically no gadgets. That's a big minus. Gadgets on their own can make a movie look cool. Missing them out levels the film with all the other gadzillion action films.
Third – computer graphics. There was an excellent chase involving a high speed train, a car and a few helicopters for example. It was off the limits completely. It was a bold move to introduce this chase into the film. But it should have been done better. The computer graphics are weak. They look like the computer game, but there was no indication of the computer game. Either more effort should have been given to it to look more realistic or it should have been turned into a well defined joke of computer sequence. As it was, it sucked.
Overall, I am very satisfied with the film. I wanted to see an action, and I saw it. Fast, bold, with lots of butt kicking – exactly the way I like it.