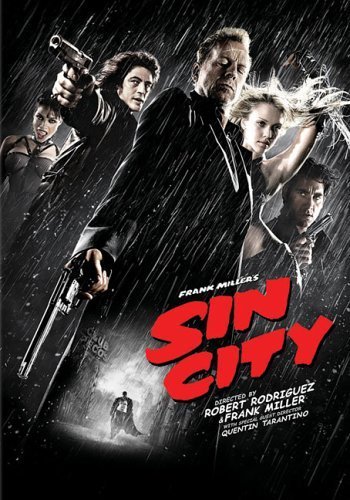 As some of you may remember, I had some really high expectations for "Sin City". I went as far as forecasting it to be a movie of the year. Today I finally got a chance to see it. I spent close to one tenth of a second considering if I should wait for the local cinemas to catch up with the world or to watch a mild quality cinema screener that was in front of me.
Directed by: Frank Miller, Robert Rodriguez
Genres: Action, Crime, Thriller
Cast: Bruce Willis, Mickey Rourke, Jessica Alba, Clive Owen, Nick Stahl, Powers Boothe, Rutger Hauer, Elijah Wood, Rosario Dawson, Benicio Del Toro, Jaime King, Devon Aoki, Brittany Murphy, Michael Clarke Duncan, Carla Gugino
IMDB raintg: 8.3
My rating: 10.0 [rate 10.0]
Needless to say that I chose the screener. Now. That doesn't mean that I won't go the cinema to see it again when it will come. It just means that my current opinion about the movie might be a bit off the limits due to not exactly superb quality of the copy.
And here is my opinion about the film, in short – it rocked! It was every bit as good as I expected and even more so. It's a good thing that I was prepared for a good movie, otherwise I could have been blown away completely. Also, I didn't get too rusty after the "Kill Bill" and that helped a lot. (In fact, I'll be getting "Sin City" DVD together with both "Kill Bill" disks.
What particularly did I like about the film? Well, the way it was done, first of all – classy black and white, with injections of saturated specific color. As with all black and white art, lighting played a huge role here as well, and it was perfect. Every frame of the film had this comics feeling to it. Each and every frame would make an excellent poster. The story was cool too. I haven't seen the original comics, so the story and the characters were new to me. Make-up should be mentioned of course. Starting from the undetectable touches on women faces, through the scarf on Bruce Willis' head, to a complete make over of Mickey Rourke. Attention to voices, both in and out of frame. Computer graphics. Music. Character development. Design of costumes and decorations – great work. And everything else.
With this film, yet another position in the list of my favourite movies of all times has been filled. 10 out of 10 and, trust me, I would give it more!