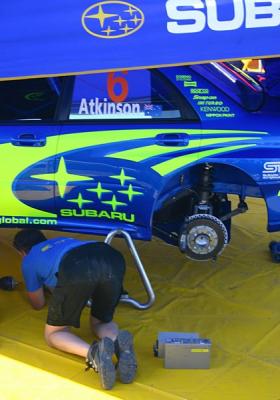 Cyprus Rally 2005 is about to start now. Today I went to the Rally HQ to buy a couple of Rally Passes. Mainly I was after the programme magazine which is usually included with the Pass package.
After waiting and walking around for a couple of hours, I learned that there was some problem with organizers and that they will start distributing Passes only tomorrow. Before I got disappointed and all depressed, I managed to acquire (hehe) a copy of the magazine with the rally programme. No need to feel sad – we'll be planning our activities no matter what.
I have also walked around the Service Park. I was wearing the last year's Subaru t-shirt and most of the guards thought for some reason that I was with Subaru team. They were encouraging me to join Subaru mechanics, asking questions, cheering and stuff like that. I used such a friendly opportunity to make a whole bunch of pictures. Drivers and co-drivers were out of the Service Park at some press conference or something like that, so no pictures of them. But, instead, I've got plenty shots of mechanics, cars, team camps, flags, etc.
Album location: /photos/2005/2005-05_Cyprus_Rally/2005-05-11_Preparations/